Custom Plugin Development
When you need your website to do something specific or complex that can't normally be done, we might be able to add that functionality ourselves. When we do this we don't change the core code of the CMS as this would destroy your upgrade path, instead we create a plugin.
A plugin will extend the CMS with sections of code which we write ourselves, whilst leaving the core system intact. This means that the CMS can still be updated as new updates are released and our plugin won't get in the way of this. We are essentially adding functionality without changing anything which already exists.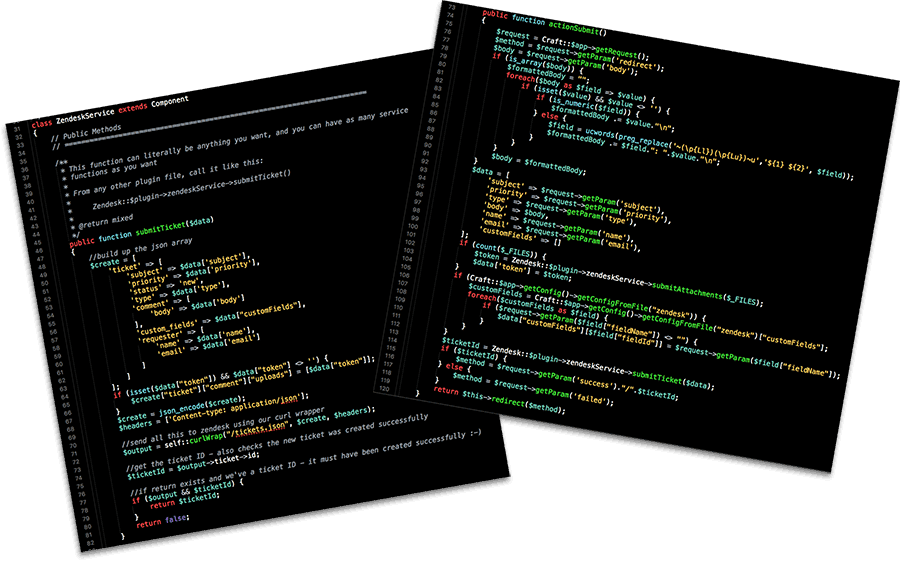 We have now developed a number of plugins as a team which have a wide range of functions. A few examples of what we are able to do are as follows:
Allows customers to repeat a previous commerce order
Generate a GDPR data report using just an email address
Submit a support ticket to our helpdesk from within the CMS
Generate a font upon checkout which is licensed to the customer and email them a download link
Show timetables on a screen for cruises at a certain pier with realtime updates
Create a direct debit mandate for monthly or yearly payments as a membership service
Link up to various donation platforms using APIs so statistics can be pulled through onto the site with a donate now button linking through
Integrate with Merlin API to allow a full order management system to talk to a website allowing us to display all of the information and create and modify entries.
There are many more examples we could add to this list to show how we can utilise plugins, but these examples should be enough to give you an idea of what we are capable of achieving.
If you still aren't sure if we can provide what you are looking for then sometimes the best way to find out is to just ask. We also have a number of case studies and blog posts about various projects we have been working on which should give you some further insight into what we can create.
Primarily we work with Craft CMS, but we also have a number of sites still running on ExpressionEngine which we support. We have a wide range of skills in our team and have also worked on CodeIgniter projects and custom PHP builds.
Whilst we may talk about Craft CMS a lot in our blog posts we are by no means restricting ourselves to developing only for that platform. Craft just happens to be our favourite which we have specialised in.
Most of the plugins we create are done so for our clients to meet their specific needs, so they will be single use plugins which aren't used on any other site. We are however also coding plugins for our own internal usage and these have made our lives easier by refining some of our processes. A couple of these plugins have been released publicly for other developers to use and they can all be found on our teams GitHub account.
Need some work doing?
If you feel that you have some specific functionality that needs to be added to your site, then please don't hesistate to get in touch with us. We can look into your requirements as part of a discovery session and scope out what we think will be involved.
Other services related to Custom Plugin Development
Plugins we have developed to extend the functionality in Craft CMS
Plugins we have developed to extend the functionality in ExpressionEngine CMS