Facebook "News" launches in the UK
The UK is the second market to get Facebook News, which launched in the United States in June last year.
The feed will feature several major news publishers, including Channel 4, Sky News, and The Guardian, who have signed deals with Facebook to provide content.
"News gives people more control over the stories they see, and the ability to explore a wider range of their news interests, directly within the Facebook app," said Facebook's Campbell Brown.


The new feature is a dedicated tab within the Facebook mobile app, accessible by tapping the three-line icon for more options.
The tab features a mix of major daily news stories and "personalised" news selected for each reader based on their interests, as decided by Facebook's algorithm.
Facebook says it pays publishers "for content that is not already on the platform", and says the feature will also provide publishers with new advertising and subscription "opportunities".

Instagram introduces "Professional Dashboard"
Instagram has announced the launch of a new 'Professional Dashboard', which is essentially a management overview platform that provides basic performance insight, as well as access to relevant tools to help Instagram creators maximise and monetise their platform presence.
What can you expect from the new Professional Dashboard?
The dashboard aims to make it easier to track performance, as well as prompting users to be more active and engaged.
Track Your Performance highlights key trends and data notes based on your account performance, including comparative prompts based on past performance stats. You can also tap through to your full Insights section from here.
Grow Your Business provides quick access to various tools to help you manage your account more efficiently, including Badges, Branded Content and IGTV promotions. You can also check your accounts' eligibility for monetisation here.
Stay Informed provides links to Instagram's latest educational resources, "including tips, tricks, guidance, and inspiration".
Are you struggling to create engaging social media content?
Coming up with original campaigns and juggling multiple conversations takes time, and if you're going to be ready to react to new opportunities and trending topics, you need your head in the game.
With support from our experienced marketing team, there's no need to struggle with creating content, finding new listeners audience or sharing your message.
Get in touch
Google Search results re-vamped focusses on Simplicity
Google is updating the design of mobile search results with a modern experience that makes it easier for people to find what they're looking for.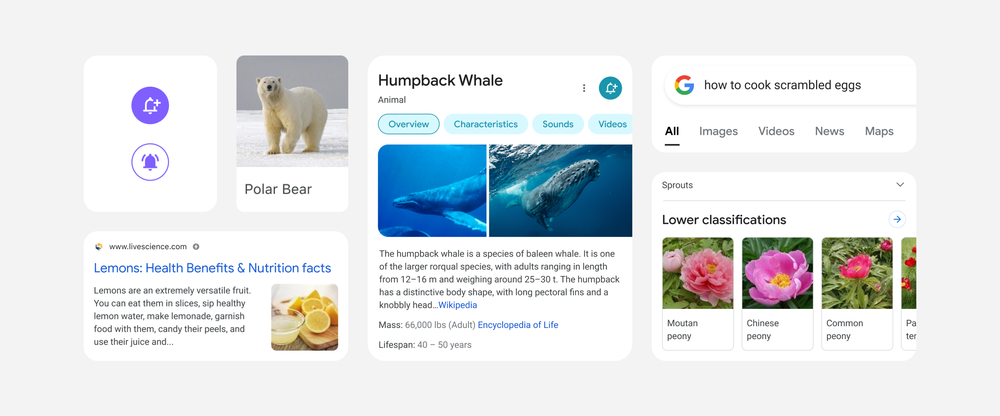 With the redesigned version of mobile search Google aims to improve the experience for users in three key ways:
Easier reading: Sections and labels are larger and clearer to help users find what they're looking for faster.
Simpler design: Improvements made to sections and results card designs to create more white-space, helping users focus on content that matters.
Modern approach: A fresh new look for Search that Google describes as "simple, friendly, and approachable."
The update only affects the look and feel of search results. There's no difference to how content is indexed or ranked, how much information is included in search snippets, or anything like that.

The redesign follows Google's recent announcement on changes to search rankings being introduced in May 2021, which will take in to account page experience signals.
Nina Helme
Nina is a project manager at A Digital working alongside clients and supporting their digital campaigns.
Learn more about us: